Omega Phi Beta Sorority, Incorporated is proud to work with various partners as sponsors for our National Convention!
Our Partners   |  Sponsorship   |  Purchase an Ad  |  Beta Market
---
Our Partners
The 2017 National Convention is organized by Omega Phi Beta Sorority Inc.'s Events Committee under the supervision of the Board of Trustees and National Council of Officers with contributions from our hosts, entities, and alumnae. A big thank you to:
Pi Chapter, Boston City Wide – Celebrating 20 Years
Alpha Epsilon Chapter, Boston Alumnae – Celebrating 10 Years
Alumnae Association of Omega Phi Beta Sorority, Incorporated
Sisters/volunteers in the greater Boston Area
Omega Phi Beta Foundation, Inc.
Without the support of our communities our programs and initiatives wouldn't have nearly as much reach or impact. We are grateful to our sponsors / partners for their commitment to our vision, mission, and values!
Something is wrong. Response takes too long or there is JS error. Press Ctrl+Shift+J or Cmd+Shift+J on a Mac.

---
Become a Partner
Sponsorship is a great opportunity to support our organization's core mission and vision, be part of a movement to empower hundreds of women to thrive as leaders in our society, and showcase your organization's products and services. Partner with us as a sponsor, participant, supporter, or contributor!
We have various sponsorship levels which include tickets to our events, a vendor table at our Beta Market, and several marketing perks.
We also happily accept gifts-in-kind or donations of goods, services, or expertise.
Or you could show us some love by purchasing an ad in our Convention Program Booklet
Check out our sponsorship packet to learn more about Omega Phi Beta, this year's event, and the perks of partnering with us as a Sponsor! Click here to download the 2017 Sponsorship Packet. All Sponsorship opportunities available through July 10th!
For questions about becoming a sponsor please contact us at Events@OmegaPhiBeta.org
*

Show Us Some Love

! *
Send in a photo, flyer, or shout out as an advertisement in our Convention Program Booklet. For more details on what an ad looks like, check out last year's program booklet: Beta Revolution Program Booklet.
Steps to book your ad:
Pay for your ad via the PayPal link below
Send in your image or text to Events@OmegaPhiBeta.org
Finally, don't forget to post any social media related to OPBSI's Convention using #SunflowersRise1989 and #OPBSIConvention
| | |
| --- | --- |
| Deadline: July 10, 2017 | |
*

Join the Beta Market

*
The Beta Market is Omega Phi Beta's very popular and highly anticipated vendor fair, showcasing products and creations from our Chapters, Collectives, and Entities as well as information or products from our Authorized Licensed Vendors and Convention Sponsors.
This year, due to limited space, Beta Market participation will be determined by invitation only. Sorority entities/chapters/collectives interested in participating must complete the Beta Market participation form on the Nest by May 1st. All others should contact our team with questions or requests at Events@OmegaPhiBeta.org.
Schedule: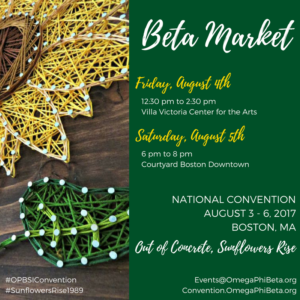 ---
Questions?
Submit your inquiry to us using the form below, or email us directly at Events@OmegaPhiBeta.org.